Rechargeable COB Headlamp, Wide Beam LED Light Bar & XPE Head Torch
$29.99 USD$49.99 USDSave 40%
Multifunctional Headlamp with so many advantages
HeadLed have a wide beam COB headlamp with a 230° lighting range & XPE side lights.
The wide beam headlights provide a very wide field of view, allowing you to shine without moving your head. Brighten all areas
XPE's side lights provide a lighting distance of up to 100 meters

5 Ligh Modes & Motion Sensorsor
HeadLed have 5 light modes:
COB high brightness (100%)
COB low brightness (40%)
XPE side light high brightness (100%)
XPE side light low brightness (40 %)
Flash mode
Easy To Use Controls & Metion Sensor

Lightly press the power button to switch the first four modes, in any light mode, long press the power button to enter the flash mode. After selecting any lighting mode (not flash mode) to activate the sensor, you can turn on or off the headlights by waving your hand

Long battery life
Powred with a built-in 1200mAh rechargeable lithium battery to ensure long-term use. You can use it continuously for 3-8 hours in various light modes.
The Type-C USB charging interface can charge quickly and is very convenient. The red light flashes when the battery is low, and the red light is on when charging. When the green light is on, the battery is fully charged.
Wide Use and Life-level Waterproof
HeadLed is widely used in various needs, such as camping, night running, night fishing, cycling, maintenance, adventure, and dog walking, providing you with a wide and long-lasting field of vision. The waterproof level of IPX4 is enough to deal with normal use under various bad weather, heavy rain, snow, etc. can be used normally
IPX4 Waterproof
Lightweight and Comfortable
equipped with adjustable elastic headbands, you can adjust the size to suit your needs according to your needs. Both adults and children can use them. The soft material ensures comfort 。The weight of our headlights With only 3.5 ounces, you can wear it for a long time without any discomfort. You can wear it on your head, helmet, or helmet. After being folded, it can be put in a pocket, which is very convenient to carry.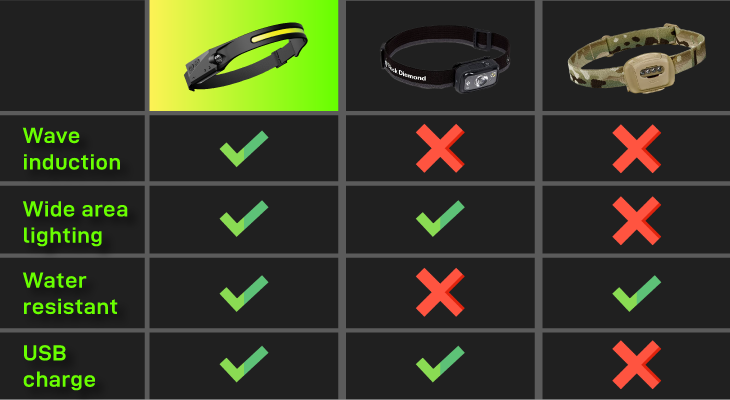 What more could you ask for?
All in all, HeadLed is a great choice whether you're an outdoor enthusiast or a handyman around the house.
Product information
Body material: silicone
Battery type: Polymer Lithium
Battery capacity: 1200mAH
Working voltage: 3.0V-4.5V
Waterproof rating: IPX4
Modes:
* COB High light: 350 lumens, lighting time 2.5~3H
* COB Low light: 130 lumens, lighting time 3.5~4H
* XPE High light: 120 lumens, lighting time 4~4.5H
* XPE low light: 50 lumens, lighting time 6*6.5H
* Flash Mode




If you're not fully satisfied, let us know via support@shops-support.net and we'll quickly work to correct the problem.